Shanghai Metal Corporation is a leading Brass Strip for Key for Lead Frames manufacturer and supplier.
Brass is an alloy composed of copper and zinc. Brass composed of copper and zinc is called ordinary brass. If it is a mixture of two or more elements, it is called special brass. Brass has strong wear resistance.
The advantages of the brass strip for key are: it is not easy to rust, easy to cast, beautiful in color, does not damage the lock, and has a small coefficient of thermal expansion.
If you want to know more about our copper products or Brass Strip for Key price please feel free to contact us, we will reply you within 24 hours.
Specifications of Brass Strip for Key:
1) Grade: C2200, C2300, C2600, C2680, C2801
2) Chemical Composition:
1) C2600: Cu >68.5-71.5% Fe <0.05% Pb <0.05% Zn remainder
2) C2680: Cu >64.0-68.0% Fe <0.05% Pb <0.05% Zn remainder
3) C2801: Cu >59.0-62.0% Fe <0.10% Pb <0.01% Zn remainder
3) Temper: O, 1/4H, 1/2H, 3/4H, H, EH, SH
4) Thickness: 0.15mm - 5.0mm
5) Width: 8mm - 610mm
6) Standard: JIS, ASTM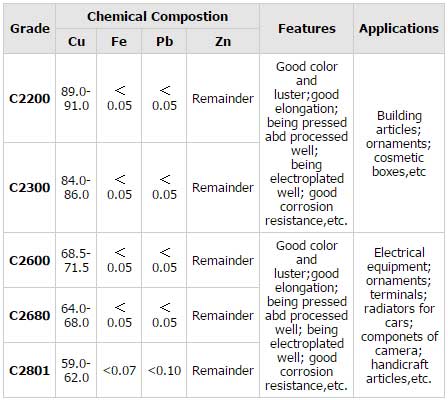 Features of Brass Strip for Key:
1) Good elongation
2) Extruded well
3) Processed well
4) Electroplated well