Stainless steel pipes are the most common types of pipes in engineering. The common ones are 201 and 304. It has the advantage that other tubing is irreplaceable. There will be more and more applications in the project, the use will become more and more popular, and the prospects will be optimistic.
In some cases, the stainless steel tube is advantageous, especially a thin-walled stainless steel tube having a wall thickness of only 0.6 to 1.2 mm. In the high-quality drinking water system, hot water system and the water supply system that puts safety and sanitation first, it is safe, reliable, hygienic and environmentally friendly, and economically applicable. It has been proved by domestic and international engineering practice that it is one of the best, new, energy-saving and environment-friendly pipes for the water supply system. The following is a detailed description of the stainless steel pipe.
Summary of types and uses of stainless steel pipes
First, stainless steel decorative tube
1. Material: 201 and 304 are mainly, a small amount of 301 and 316
2. Uses: Stairs, doors and windows guardrails and other decoration projects, some of which require lower product piping
3. Features: bright surface, brushed or matte
Second, stainless steel product tube
1. Material: 201, 304, 316
2. Uses: bathroom home, product piping, fluid pipe, etc.
3. Features: strict requirements on positive and negative specifications, surface brightness, etc., there will be requirements for bending, expansion, etc.
Third, stainless steel shaped tube
When the number of special-shaped tubes is generally small, the method of forming the secondary tubes of the round tubes (excluding the tank tubes) is adopted, and the number can be customized. Because of different specifications and sometimes lack of molds, it may be necessary to bear the corresponding mold costs.
1. Elliptical tube: positive elliptical tube, flat elliptical tube
2. Groove tube: round tube, square tube, rectangular tube, elliptical tube, etc. can be slotted, generally used for guardrail border card glass
3. Others: triangles, handrails, arches, sectors, door frames, etc.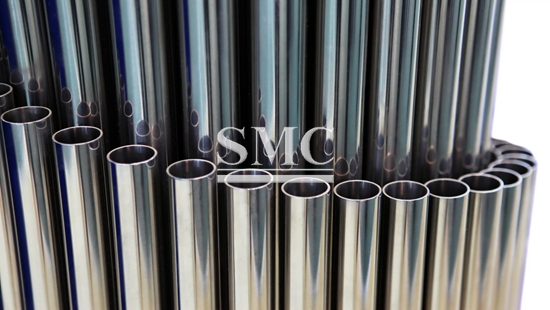 Fourth, stainless steel tube
The appearance of the pattern tube has changed the appearance of the traditional stainless steel tube, making it refreshing.
1. Ordinary embossing: a traditional round tube with a section of pressure hoist
2. European embossing: the surface of the pipe is pressed back, auspicious clouds, money and other patterns
Fifth, color stainless steel tube
The surface of the stainless steel tube is coated with a layer of color. Any material specification can be used. The corresponding processing cost is increased by the square on the basis of the pipe. In the past, the color has been painted below four meters. Now the gold, rose gold and black titanium can be painted 6 meters. The color tube needs to reduce the welding probability and adopt the link piece.
Sixth, stainless steel composite pipe
1. Stainless steel composite pipe: A composite pipe with surface 304 and inner layer 201 appeared a few years ago, but now the price of 304 has decreased, the composite pipe has been reduced.
2. Carbon steel composite pipe: surface 201 or 304, internal carbon steel, surface layer thickness of 1.0 or less, generally used for highway guardrail engineering.
Seventh, stainless steel industrial pipe
Industrial pipes also have welded pipes and seamless pipes, mainly used in engineering structures, various types of pipes, etc.
What are the classifications of stainless steel pipes?
1. Stainless steel pipe is classified by material
Divided into ordinary carbon steel pipe, high-quality carbon structural steel pipe, alloy structural pipe, alloy steel pipe, bearing steel pipe, stainless steel pipe and bimetallic composite pipe, coating and coating pipe to save precious metals and meet special requirements. There are many types of stainless steel tubes, their uses are different, their technical requirements are different, and their production methods are different.
2. Classified by production mode
According to the production mode, the stainless steel pipe is divided into two types: seamless pipe and welded pipe. The seamless steel pipe can be divided into hot rolled pipe, cold rolled pipe, cold drawn pipe and extruded pipe, etc. Cold drawing and cold rolling are secondary to steel pipe. Processing; welded pipes are divided into straight welded pipes and spiral welded pipes.
3. Classification by section shape
Stainless steel tubes can be divided into round tubes and shaped tubes according to the cross-sectional shape. The special-shaped tube has a rectangular tube, a rhombic tube, an elliptical tube, a hexagonal tube, an eight-sided tube, and various cross-section asymmetric tubes. Shaped tubes are widely used in a variety of structural parts, tools and mechanical parts.
4. Classified by tube end shape
The stainless steel tube can be divided into a light pipe and a wire tube (threaded steel pipe) according to the state of the pipe end. The wire tube can be divided into ordinary wire tube (transporting water, gas and other low pressure tubes, using ordinary cylindrical or conical tube thread connection) and special threaded tubes (oil, geological drilling tubes, for important wire tubes) Special threaded connection). For some special tubes, in order to compensate for the influence of the thread on the strength of the tube end, the tube end is usually thickened (inner thickening, outer thickening or inner and outer thickening) before the wire.
5. Classified by purpose
According to the application, it can be divided into oil well pipe (casing, oil pipe and drill pipe, etc.), pipeline pipe, boiler pipe, mechanical structural pipe, hydraulic pillar pipe, gas cylinder pipe, geological pipe, chemical pipe (high pressure fertilizer pipe, petroleum cracking pipe). ) and ships and other tubes.
Stainless steel pipe is a hollow strip of round steel, which is widely used in petroleum, chemical, medical, food, light industry, mechanical instrumentation and other industrial pipelines and mechanical structural components. In addition, when the bending and torsional strength are the same, the weight is light, so it is also widely used in the manufacture of mechanical parts and engineering.
For our full list of products that we offer check out our website here. Be sure to join the conversation in our
LinkedIn group
,
Fac
ebook
,
Twitter
.
Try also our We Chat by scanning the QR code below.
Shanghai Metal Corporation is a trusted aluminum alloy, aluminum foil price, stainless steel price and stainless steel manufacturer, kinds of stainless steel in china.
Fever L. // SMC Editor