Features of GI Corrugated Roof Sheet:
Our corrugated roofing sheets have a "woven" textured surface, and are ideal for many commercial and residential roofing or wall panels' projects.
1) Light weight, high impact strength and simple to use
2) Deep corrugations provide bold aesthetic shadow effects
3) Strength of design allows longer spanning or greater allowable loads
4) Various corrugation profiles, including standard, mini, tile effect, box profile, etc.
5) Offer Custom-manufactured service to satisfy your special needs
6) Offer roof materials in galvanized steel, prepainted galvanized steel, also available in galvalume steel and prepainted galvalume steel
7) Offer roof accessories to help you install roof or wall panel, such as roof fasteners, roof panel machine and roof cutting tool
Standard size:
Our corrugated roofing sheets are available in a wide range of sizes. The width is from 750mm to 914mm. We can cut the length size as your requests. Our GI roofing sheet are coated by 60g/m2 to 275g/m2 zinc coating that provide a strong chemical and corrosion resistance.

RECOMMENDED ACCESSORY:
Our roof accessories include roof fasteners, roof machine and cutting tool, which can help tight and shape roof panel . We provide a wide range of sizes for your choices. If you are interested in our products, please contact us for further specification and information of those products. We will try our best to offer the professional advice and best service for you.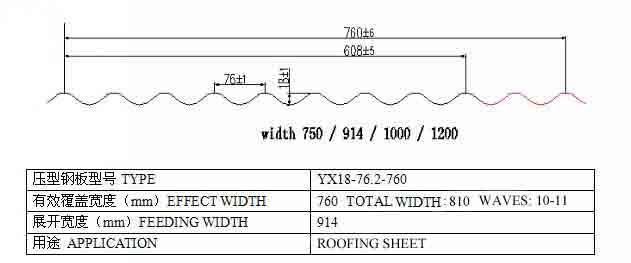 Fencing Sheets, Steel Corrugated fencing sheets, Corrugated Fencing Hoardings, Perimeter Fencing, Fencing Steel Panels, Aluminum Fencing panel suppliers, Steel fence supplier for GI, HDG, SS, Aluminum Powder coated, sheet hoardings are supplied in UAE, Saudi Arabia (Riyadh, Dammam, Jubail, Jeddah, Yanbu), Qatar (Doha, Lusail), Oman (Muscat, Sohar, Seeb), Kuwait, Bahrain, Nigeria, Kenya, Mozambique, Turkey, Egypt, North African countries CORRUGATED FENCING SHEET DANA Steel fabricates Steel fencing and aluminum fencing panels in various metal finishes and materials. Steel fence panels in GI, HDG, Powder coated form are available.
Fencing corrugated sheets can be of any color as per customers requirements : White(RAL 9002) , blue( RAL 5012), Red , Grey(RAL 7031) or any other RAL Color. DANA Steel has three manufacturing units in Ajman , Umm AL Quwain and Al Quoz . Factory undertakes production of corrugated sheets, panels, profiles, roofing sheets, fencing panels. Fencing panel fixing accessories are also provided. Steel and aluminum fencing panels are available at low prices in U.A.E and for export to GCC Countries and North African countries namely: Saudi Arabia, Qatar, Oman, Bharain, Kuwait, Turkey, Uganda, Kenya, Nigeria, Egypt, Morocco. We have proudly supplied to various prestigious projects like Abu Dhabi Airport Project, Qatar Metro & QRAIL project, etc. Our fencing is manufactured with corrugated profiled steel sheets which are prepainted (as per Color Shade RAL 9002, RAL 5012, RAL 7031 or as per customer requirements). The thickness of these corrugated can vary from 0.40mm to 0.90mm as per client specifications.
The advantages of our company are first-class quality, short delivery time, competitive offer and professional service. To keep long term cooperation with all our clients is the most important thing to our company. We treat every order form meticulously, proceed from the customer's interests constantly, think about the customer, in order to realize 100% of the customer satisfaction.