Features of GI Corrugated Roof Sheet:
Our corrugated roofing sheets have a "woven" textured surface, and are ideal for many commercial and residential roofing or wall panels' projects.
1) Light weight, high impact strength and simple to use
2) Deep corrugations provide bold aesthetic shadow effects
3) Strength of design allows longer spanning or greater allowable loads
4) Various corrugation profiles, including standard, mini, tile effect, box profile, etc.
5) Offer Custom-manufactured service to satisfy your special needs
6) Offer roof materials in galvanized steel, prepainted galvanized steel, also available in galvalume steel and prepainted galvalume steel
7) Offer roof accessories to help you install roof or wall panel, such as roof fasteners, roof panel machine and roof cutting tool
Standard size:
Our corrugated roofing sheets are available in a wide range of sizes. The width is from 750mm to 914mm. We can cut the length size as your requests. Our GI roofing sheet are coated by 60g/m2 to 275g/m2 zinc coating that provide a strong chemical and corrosion resistance.

RECOMMENDED ACCESSORY:
Our roof accessories include roof fasteners, roof machine and cutting tool, which can help tight and shape roof panel. We provide a wide range of sizes for your choices. If you are interested in our products, please contact us for further specification and information of those products. We will try our best to offer the professional advice and best service for you.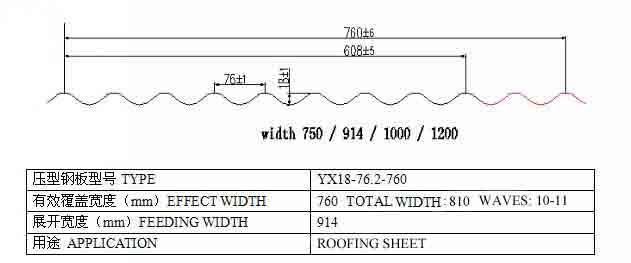 Soundproof wall, also named Sound proof wall. It is an acoustic noise reduction
facility installed between the sound source and the receiver. Shanghai Metal can
supply you good quality Noise barrier with different specifications, special request
can also be customized.

Specifications of Soundproof Wall:
1) Material:Stainless steel sheet, Iron sheet, Galvanized sheet etc.
2) Metal sheet thickness: 0.6mm, 0.7mm, 0.8mm, 1.0mm
3) Forming thickness: 80mm, 100mm
4) Forming size:1960*500*100mm, 2460*500*100mm
5) MOQ: 200 PCS
(All can be customized)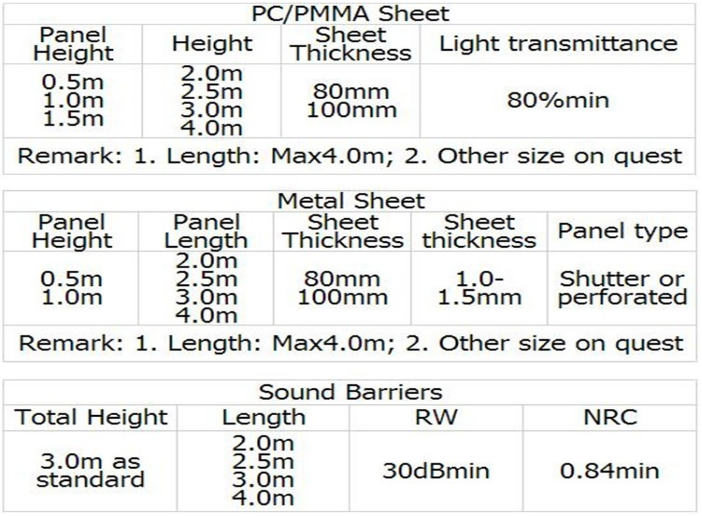 Features of Soundproof Wall:
1) Good performance of sound insulation and decrease of noise
2) Safe and reliable structure
3) Low installation cost
4) Durable and long service time
5) Landscape humonious, beautiful designed

Soundproof Wall:
Soundproof wall is installed between the sound source and receiver to have a function of
sound reduction. Obviously, railway noise absorptive wall is applied to railway to weaken
the noise, so that the receiver zone would be affected smaller.

Applications of Soundproof Wall:
Widely used in the core of filter, medicine, filtering, breeding, battery, mechanical
protecting, making the crafts, the meshes for the high-grade sound box, decoration,
the seating for children, baskets, etc.

Type of Soundproof Wall:
Sound barrier is widely used in Highways, High speed rails, Subways' exit,
work places, bridges, cooling tower sound barrier panel, etc.
Metal type: Galvanized sheet, aluminum sheet.
Appearance: Shutter type, Punching type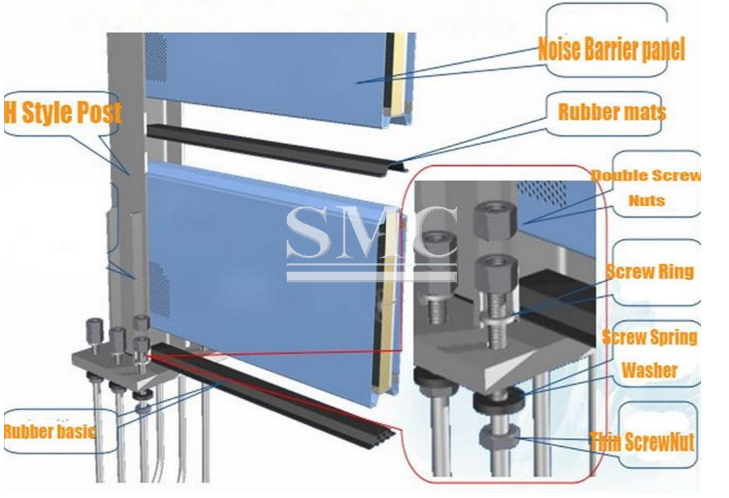 Packing Details of Soundproof Wall
Metal noise barrier is packed with plastic bubble film with 5 panel being tied by strips
and plastic plates or on clients requirement.