Features of GI Corrugated Roof Sheet:
Our corrugated roofing sheets have a "woven" textured surface, and are ideal for many commercial and residential roofing or wall panels' projects.
1) Light weight, high impact strength and simple to use
2) Deep corrugations provide bold aesthetic shadow effects
3) Strength of design allows longer spanning or greater allowable loads
4) Various corrugation profiles, including standard, mini, tile effect, box profile, etc.
5) Offer Custom-manufactured service to satisfy your special needs
6) Offer roof materials in galvanized steel, prepainted galvanized steel, also available in galvalume steel and prepainted galvalume steel
7) Offer roof accessories to help you install roof or wall panel, such as roof fasteners, roof panel machine and roof cutting tool
Standard size:
Our corrugated roofing sheets are available in a wide range of sizes. The width is from 750mm to 914mm. We can cut the length size as your requests. Our GI roofing sheet are coated by 60g/m2 to 275g/m2 zinc coating that provide a strong chemical and corrosion resistance.

RECOMMENDED ACCESSORY:
Our roof accessories include roof fasteners, roof machine and cutting tool, which can help tight and shape roof panel . We provide a wide range of sizes for your choices. If you are interested in our products, please contact us for further specification and information of those products. We will try our best to offer the professional advice and best service for you.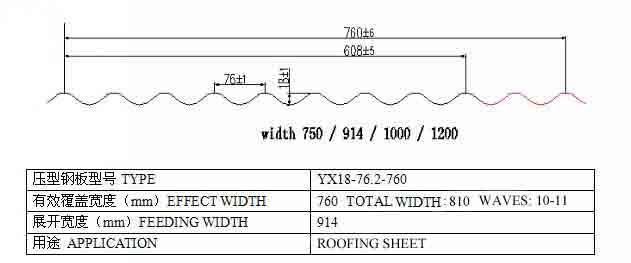 PU Wall Waterproof Structural Insulated Panels, Fire Insulation Galvanized Steel Sheet
Color steel sheet Quick Detail:
1) Strong corrosion resistance
2) High mechanical strength and excellent shearing resistant performance
3) Low cost, high durability and extensive application
Galvanized Corrugated Color Steel Sheet With Waterproof, Fire Insulation
Color steel sheet Description:
1) Color steel material with developed width of 1000mm, mechanical profiling effective width, wave peak of 40mm, normally used for roofing
system of pseudo - classic villa, gardening architectures, large - scaled urban reconstruction and etc.
2) The roofing board can be cut into any size according to the outline of the architecture, thus the lapping seam can be reduced.
3) Traditional simple connection way, wave peak connection, connecting with member bar via self tapping screws, the water-stop shim is provided at the contact of self tapping screw and roofing board to prevent water leakage.
4) It looks with beautiful curve and elegant appearance
Color steel sheet Applications:
Various roofs and walls referring to the Prefab house, movable house, container house, portable house, clean workshop, light steel structure villa, large size factory buildings, storages, exhibition halls, gymnasiums, etc.
Competitive Advantages:
1) Lower price and best quality
2) Waterproof and fire insulation
3) Light weight
4) Fast and convenient installation
5) Different color
6) High strength
7) Durable
8) Free of maintenance
9) Beautiful appearance