Specifications of Hot Dip Galvanized Steel Grating:
1) The shape of bearing bar: Plain type (may be omitted in the symbol of steel grating), Serrated type and I-Shape type
2) Bearing bar pitches can be 12.5, 15, 20, 30, 30.16, 32.5, 34.3, 40, 60mm, of which 30mm & 40mm are recommended
3) Cross bar pitches can be 38, 50, 60, 100mm, of which 50mm & 100mm are recommended
4) Surface treatment: Hot-dip galvanizing, paint or other anti-corrosive coatings are available, of which hot-dip galvanizing is generally recommended
5) Material: Q235 in line with GB/T700 steel
6) Tolerance
The allowed deviation of length is +0/-5mm, while the allowed deviation of width is +/-5 mm.
The non-perpendicularity of bearing bar is allowed no more than 10% of width of bearing bar.
Cross bar surface should not surpass bearing bar surface 1mm, beginning & end of cross bar should not surpass the end surfaces of two sides of grating 2mm.
7) Standard: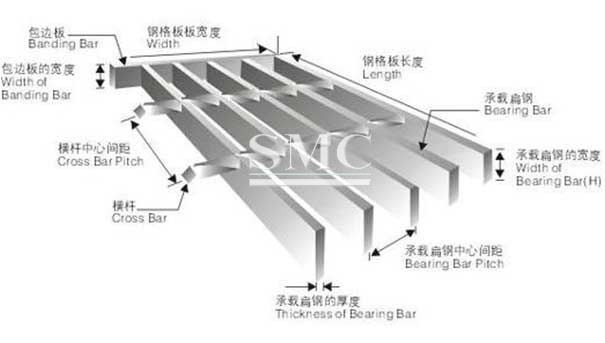 Steel Fence is a newly designed fence, which is flexible, aesthetically pleasing and highly secure
compared with palisade fencing or chain link fencing, thus is widely used in airport, railway, garden
and residence to provide security and prevent unwelcome visitors.
Galvanized steel grating is widely used in most general industrial plants as well as commercial
buildings, it has wide applications as walkways, platforms, safety barriers, drainage covers and
ventilation grates. It is also ideal for use as mezzanine decking since it supports the same loads as
comparable solid flooring. More than that, its cost saving openness maximizes the circulation of air,
light, heat, water and sound, while promoting cleanliness.

Material: carbon steel
Surface treatment: hot-dipped galvanized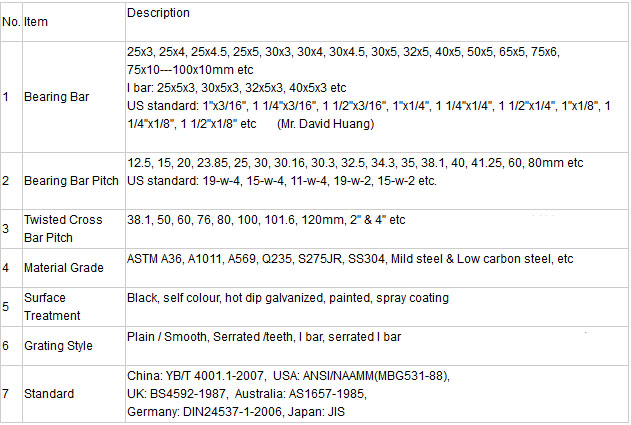 Features of Steel Grating:
1) Can be purchased in stock sizes or custom fabricated to meet the project specifications.
2) Excellent load bearing capabilities
3) Ventilation of air, light, sound
4) Don't collect Liquid and debris
5) Long service life
6) Wide range of open areas
7) Galvanized steel grating has an unmatched surface. It is also a permanent replacement for slippery serrated and plain grating.
8) It's available in many different styles and spacing options to meet a variety of needs and applications.
9) Anti-theft design: the cover and the frame is joint with hinge offering security, safety and open convenience.
10) High strength: the strength and the toughness are much higher than cast iron. It can be used for terminals, airport, other large-span and heavy loading condition.