Specifications of Steel Grating:
1) The shape of bearing bar: Plain type (may be omitted in the symbol of steel grating), Serrated type and I-Shape type
2) Bearing bar pitches can be 12.5, 15, 20, 30, 30.16, 32.5, 34.3, 40, 60mm, of which 30mm & 40mm are recommended
3) Cross bar pitches can be 38, 50, 60, 100mm, of which 50mm & 100mm are recommended
4) Surface treatment: Hot-dip galvanizing, paint or other anti-corrosive coatings are available, of which hot-dip galvanizing is generally recommended
5) Material: Q235 in line with GB/T700 steel
6) Tolerance
The allowed deviation of length is +0/-5mm, while the allowed deviation of width is +/-5 mm.
The non-perpendicularity of bearing bar is allowed no more than 10% of width of bearing bar.
Cross bar surface should not surpass bearing bar surface 1mm, beginning & end of cross bar should not surpass the end surfaces of two sides of grating 2mm.
7) Standard: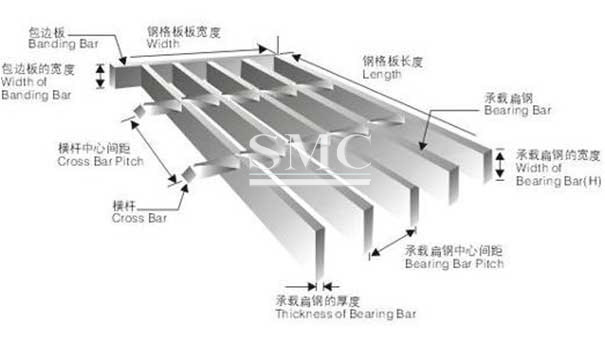 Introduction:
One of the lateral aisles of Railway Bridge as distinguished from the central aisle or nave. They are virtually always straight, not curved.
The hot-dip zinc surface treatment gives it a good anti-corrosion capacity, shiny surface appearance and durability for uses. The cutting, incision, opening, the package-processing procedures are necessary as customer demand for the finished product. Its characteristics include high-intensity and light structure. The grid is a firmly welded steel bar structure with a high capacity, light structure, easy loading and other characteristics like aesthetic appearance.