Using a container to build a house is actually a new idea. It is green and environmentally friendly, saves time and effort, and is flexible. Compared with traditional housing, it can provide people with more choices. Individuals, families, and even an enterprise can get their own needs. A house made of a steel box can also be full of artistic flavor, and at the same time be environmentally friendly and save time.
Nowadays, due to its low cost, rapid speed, unique novelty, stability and portability, container houses are gradually being used in various construction industries such as residences, hotels, shops, and guest houses.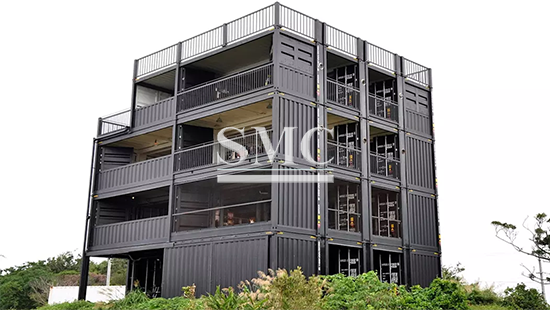 As a popular feature construction industry, it has begun to spread in some regions, but it is an emerging industry. After all, many people who desire to purchase container houses know little about the selection criteria of suppliers in this industry. Let me introduce you!
1.Design team qualification
Having a professional design team is the basis for continuous innovation. Outstanding designer with rich container design experience and cases, can perfectly combine design and construction, be creative, brave and innovative, pursue the practicality and innovation of art, and make your container architecture a rare work of art .
2. Production plant strength
Only if the production plant has the legal operation qualifications and site standards to meet the standards can it have a basis for continuous production and stable supply, and whether it is available inside the factory. Having a professional, perfect and strictly enforced quality production system is the basic guarantee for the quality of container products!
3. Selected materials
In the container construction industry, selecting materials is the key to reassure customers. What kind of supplier do you cooperate with can see the value orientation of the enterprise or individual. To judge whether a supplier is reliable, you can see whether the supplier introduced the material used in the box when introducing the material selection, and whether it has the key factors such as rust and corrosion resistance and thermal insulation performance.
4.Service capacity
First of all, we must have a positive attitude to serve customers-if it is a supplier's problem, solve it immediately; if it is not a supplier's problem, we must immediately help solve it. Not only pre-sale products and services, but also high-quality after-sales services, such as real-time follow-up of the construction situation, suggestions and precautions, remote technical support services and on-site service supervision, and regular visits to customers.
As a member of SMC, I have witnessed the growth of the company with my own eyes, and I know a little about some industry knowledge. I hope this sharing can help everyone!
For more information, please visit: https://shanghaimetal.com/container_house-1305.htm
For our full list of products that we offer check out our website here. Be sure to join the conversation in our LinkedIn group, Facebook, Twitter.
Shanghai Metal Corporation is a trusted aluminum alloy, aluminum foil price, stainless steel price and stainless steel manufacturer, kinds of stainless steel in china.
Try also our We Chat by scanning the QR code below.
Hales H.//SMC Editor