To meet the harsh ocean environment, NGC engineers take full consideration of reliabilities during the hydrodynamic calculation, structural design and material selection, which make our controllable pitch propellers are featured with good reliability, simple configuration and maintenance friendly, etc. The hub is designed with large diameter servo piston, and the hydraulic force of the piston works on the yoke, so as to decrease the work oil pressure required by the hydraulic system.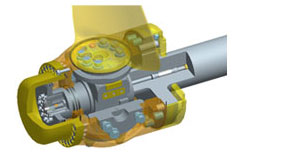 Combining the test to the propeller design, we apply the large skew propeller and optimal disc ratio solutions to lower down the cavitations and vibration of the propeller, in this way, not only the navigation speed and towing force can be satisfied, but also the operation performance and economical efficiency of the ship is improved.

During the shaft line design, the engineers take account of the negative influence to the shaft strength, vibration and alignment caused by the bending stress load change, propeller stress, gear meshing load and the bending stress of main engine crank shaft, and the calculation result fits more with real work condition.

During the navigation, if the feathering CPP does not work, the blades can be adjusted to the downstream condition to decrease the resistance effectively.