As the leading metal products manufacturer and supplier, our monthly capacity of CGI (Corrugated Galvanized Iron Sheet) is
15,000 tons. We export metal roofing sheets to India, Vietnam, Laos, Cambodia, United States, Canada, etc. Our raw
materials for roofing are Galvanized Steel, Prepainted Galvanized Steel, Galvalume Steel (Aluzinc Steel), Prepainted
Galvalume Steel, and Aluminum Sheet. Our standard sizes are available in various sizes. Except these roof patterns and
sizes we provide above, we also accept customization. We can cut the size and shape the roof pattern as you want.
Moreover, we also have roof accessories to help you install the roof or wall panel, such as roof fasteners and roof panel
machine.
CGI Sheet Types: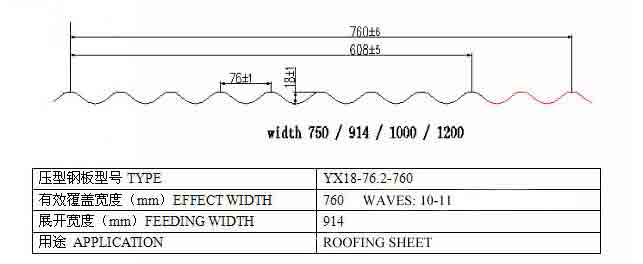 We are instrumental in offering a wide assortment of Roofing Sheets. The products offered by our organization includes Self Supported
Roofing, Pre - Painted Galvalume Steel, Bare Galvalume Steel, PEB - Pre Engineered Buildings, Coated Steel Sheet, Clay Tile Profile Panel
and many more items. These products are manufactured as per the needs and requirements of our precious clients and are availed with
customized facility. The range of products offered by our organization are available in various colors, designs and styles. These products are
highly cost-effective and are made as per the international standards.
Quality characteristics of Prepainted CGI Sheet make it one of the best roofing and facing materials. Prepainted CGI Sheet
is made of cold-drawn hot galvanized steel and covered with anti corrosion layer. Then it is grounded and covered with varnish,
while its outer side is also covered with protection coating (polyester above 25 microns).

Prepainted CGI Sheet has the following benefits:
1) Resistance to climatic changes
2) Small weight
3) Easiness of assembling
4) Short terms needed for construction
5) A wide range of color
6) Size and metal thickness options
7) Huge bearing capacity
8) Nice appearance