We offer different finishes of prepainted galvanized steel to satisfy all your needs. Let us know if you require a product or
service that you do not see listed here. We gladly to offer custom-manufactured service for your convenience.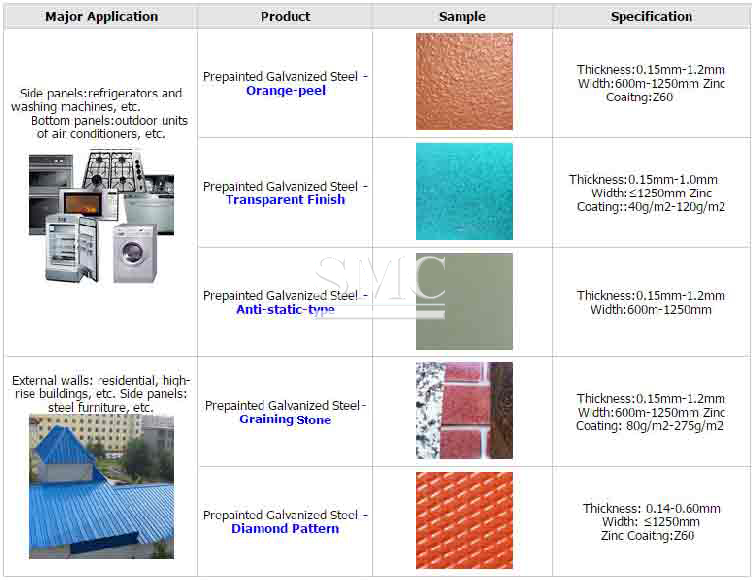 Shanghai Metal produces the widest range of Prepainted Galvanized Steel Coil& Sheet , Pre-coated Metal Sheet, laminated steel, pre-coated steel, and anti-fingerprint steel.
PPGI is produced by coating two or more layers paint applied on Cold-Rolled, Galvanized Steel, Electrolytic Galvanized Steel, base-steel, and then cut into sheets. It is also called prepainted steel, pre-coated metal sheet.
Specifications of Prepainted Galvanized Steel Coil:
1) Capacity: over 10,000 ton per month for pre-painted galvanized steel
2) Standard: AISI, ASTM, BS, DIN, GB, JIS
3) Thickness: 0.13mm - 1.2mm, all available
4) Width: 600mm - 1250mm, all available
5) Length: according to the customer's request
6) Coil ID: 508/610mm
7) Coil weight: according to the customer's request
8) Coating Weight: AZ50 to AZ150
9) Spangle: regular spangle, small spangle, big spangle
10) Color: any RAL code