Quick Details:
1) Item: galvanized exhaust pipe for green house from china / carbon welede steel galvanize pipe / galvanized steel pipe / galvanized iron pipe (tube)
2) Sizes: OD: 1/2-24" (15mm - 610mm)
Wll Thickness: SCH30, SCH40, STD, XS, SCH80, SCH160, XXS, etc. (0.8mm - 12mm)
3) Standard: ANSI B16.9/16.28, ASTM A53/A106, API 5L, ASME B36.10M--1996, DIN2605/ 2615/2616, JISP2311/2312, etc.
4) Material: ASTM A106, A53GRB, A53-A, A106-A, A192, A226, A315-B, A106-B, A178-C, A210-A-1, A210-C, A333-1.6, A334-1.6, A333-7.9, A334-7.9, 150M19, En46, etc.
5) Zinc Coating: Pre-galvanized: Z 40-50g/m2; Hot dip galvanized: Z 200-600g/m2
6) Section shape: Round/Square/Rectangular/Oval
7) Technique: Electronic Resistance Welded (ERW ); Electronic Fusion Welded (EFW); Double Submerged Arc Welded (DSAW)
8) Surface treatment: Transparent oil, rust-proof black oil or hot dip galvanized
9) Ends: thread (screw) with coupling or cap; beveled; rolled groove; plain end
10) Addition: Special design available according to requirment; Anti-corrosion and high temperature resistant; All the production process are made under the ISO9001:2000 strictly
11) Weight per Piece=(OD-Thickness)*Thickness*Length*0.02466
Size Range & Specification: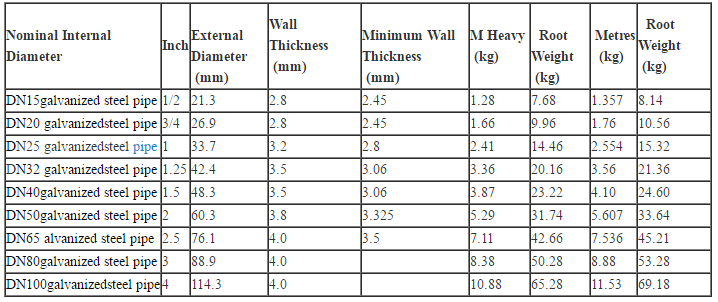 Advantages of Galvalume Steel Coil:
1) Easy maintenance: line capacity is strong, simple in line
2) High strength, trampling resistance, impact resistance, prevent short-circuit
3) Sting threading pipe construction anti interference, signal shielding,to prevent the mutual interference between strong and weak electricity
4) Safety: the safety of grounding and electric leakage protection appliances and timely
5) Flame retardant: line to prevent burning when short circuit occurs
6) Environmental protection: can be recycled, avoid secondary pollution
7) High carrying capacity: under the condition of the same wire diameter passing rate is high; current circuit long life
Features of Galvalume Steel Coil:
1) Composed of 55% aluminum, 43.5% zinc and 1.5% silicon
2) Formable, weldable and paintable
3) Superior corrosion resistance in the most atmospheric conditions. This is achieved through the combination of the sacrificial protection of the zinc and the barrier protection of the aluminum.
4) Coating out-performs galvanized coating from 2-6 times than hot dip galvanized steel