Shanghai Metal Corporation is delighted to supply the series of cold formed products such as square steel tubes, rectangular steel tubes and circular steel tubes. With the size range from 60x60 to 300x300, wall thickness from 2 to 19mm.
Specifications of Steel Square Tube:
1) Square Dimension: 40mm*40mm - 400mm*400mm (if you need special size, please feel free to contact us)
2) Wall thickness: 3mm - 16mm
3) Length: 6m - 12m (suitable for shipping container packing), can be cutting as customer's requirements
4) Zinc coating:
Pre-galvanized steel square tube: 60g/m2 - 150g/m2; Galvanized steel square tube: 200g/m2 - 400g/m2
5) Standards: ASTMA53, BS1387-1985, GB/T3091-2001, GB/T13793-92, GB/T6728-2002
6) Materials: Q195, Q215, Q235, Q345
7) Processing: cold formed or hot formed
8) Application: mechanical, manufacture, steel structure, ship building, bridging, automobile chassis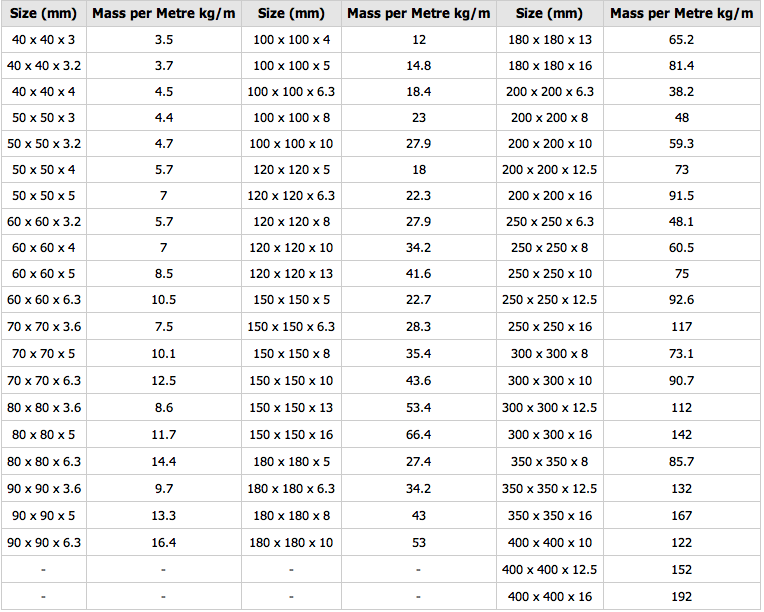 Engineering Specifications:
1) Torsional shear constant of cross-section
2) Moment of inertia of cross-section
3) Torsional stiffness constant of cross-section
4) Governing radius of gyration, elastic section modulus and plastic section modulus
Some of these specifications are for both X-X and Y-Y axes. For exact specification for each nominal size and wall thickness, please see other sources.

Features of Steel Square Tube:
1) Excellent equipment
2) Capacity of producing high accurate
3) Heat treatment technical equipment
4) Strict quality management
5) Strong technology and development
Cutting and slitting can be customed as customers' request