CNC Pipe Bending Machine:
Brief introduction:
Machine is PLC control、hydraulic to drive, touch screen operation system, It is of man-machine dialogue-type operation, with simple setting and input. Hand-operated or automatic mode can be randomly selected and be automatically changed over. The Movable foot switch is of two kinds of function, i.e. starting, crash stop. Multiple pipes with small diameter can be bent and formed once. Hydraulic system、control system、drove system、display system etc adopts import parts, high accuracy、high efficient、It's suitable for mass production,The machine we produced is in advanced level home and abroad. It's CNC fully automatic machine which is suitable for bending 3D pipe sample, Just need to input program, the machine can finish the sample automatically. This machine is easy operation、stable property、high efficiency、safety and other strong point. It's perfect machine for pipe processing.
Hardware:
1. Computer using level above than Inter Pentium 42.×G or AMD XP2xxxG
2. Five slots with high-speed PCI interface
3. 256M CCP RAM high-speed large-capacity memory×1
4. High-speed AGP 64M 3D accelerated display adapter×1
5. 40G removable hard drive×2
6. 1.44 floppy drive×1
7. 10/100 high-speed network interface
8. USB1.1/2.0 high-speed communication interface×6
9. 52×high-speed CD-ROM driver×1
10.4-axis (8 axes) PIC high speed control card Xx
11.96 point configurable PCI high-speed DI/O control card×1
12.485 communication module +D/A control module×1
System function:
1. The function of X.Y.Z and Y.B.C mutual convert.
2. The set of flexible tube processing, can set feed/back bend/ corner function after the displacement come out or in, to avoid interference point, and can set the corner, where the number of layers, to avoid the interference caused by transferred tube.
3. The time of come in clamp change to draw back clamp can be set, First shape to tube, to prevent tube rebound.
4. When open old file, can preview the 3D pipe fitting model and related mold information in time, and file storage category, find information quickly and easily.
5. Multi-axis servo motion, fine-tuning can be set 99 speeds
6. Screen and password protection function, to prevent outsiders changes without permission, resulting in abnormal.
7. 5 kinds of simultaneous dynamic processes speed up the operating speed and avoid the problem of motion interference.
8. Manual servo controls, can set the absolute and relative location of exercise accurately and fast
9.Parameters of Single-bend tube workpiece set archive independently, so they don't turbid and conflict with multi-curved tube information.
10. Y.B.C data input designed, can display 3D tube model immediately. On one side the data entry and the other side it shows the correct 3D tube model immediately, which can find out the error and amend it at once.
11. Semi/full automatic bend can show 3D tube model and simulated bend immediately.
12. Have the function of pipe work counting and count backwards.
13.The function of guided-mode repeated sends can set the degree of actions, to match with wide-angle curved tube.
14. The function of feed auxiliary push, aiding bend pipe reduce extended deformation.
15. Catheter displacement movement can be set out or in, to prevent scratches tube surface
16. Can set pipe or non-pipe (square pipe) bending function.
17. Can set the time of withdraw clamp A, avoid interference.
18. Can set into the corner, delay the time of withdraw clamp, auxiliary tube shape, reducing the tube problem of bounce.
19. Can set foot 0/1/2 times, coordinate with take tube movement; speed up the tube process degree.
20. Can display the completion time of each tube and pipe information under the automatic circumstance.
Models:
SMC-GCNC01, SMC-GCNC02, SMC-GCNC03, etc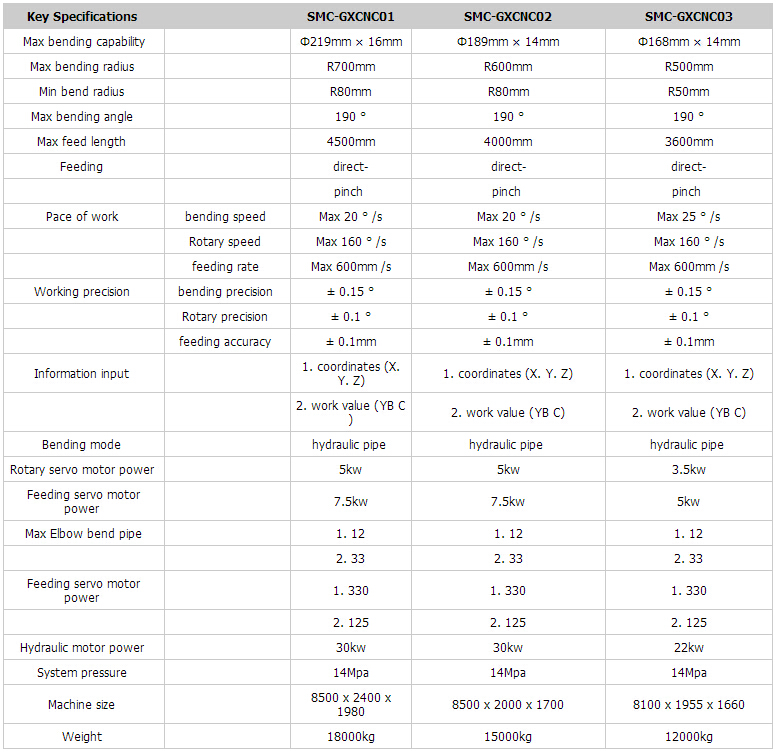 Applications of Pipes and tubes:
1. Agriculture/Automotive
2. Buildings
3. Furniture
4. Ornamental
5. Windows/Doors
6. General
7. Agriculture/Automotive
8. Buildings
9. Furniture
10. Ornamental
11. Windows/Doors