Main structure
1. It adopts micro-computer, human-computer control interface, servo positioning, and we make the wallboard, base much stronger than others, it gurantees that when the machine runs with 300 strokes/min, you won't feel that machine is shaking.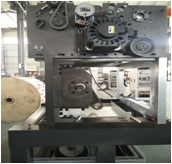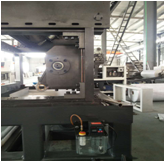 2.Lubri cation System: Adopts forced lubrication system to ensure main driving oil supply regularly and reduce friction and prolong the machine life, you could set it to lubricate one time every 10 minutes.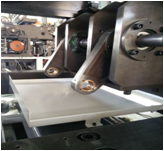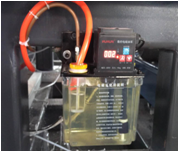 3. The die-cutting force is provided by a 7.5KW inverter motor driver. It is not only power-saving, but also can realize the stepless speed adjustment, especially when coordinate with the extra large flywheel, which make the die-cutting force strong and steady, and the electricity can be further reduced.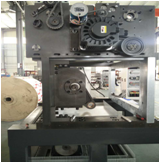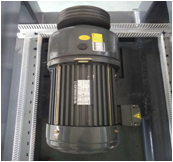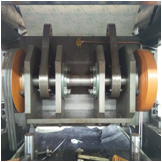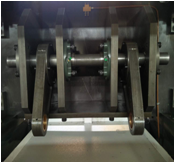 4. The coordination between stepping motor and photoelectric eye which can identify colors assures the perfectly fit of the die-cutting position and figures.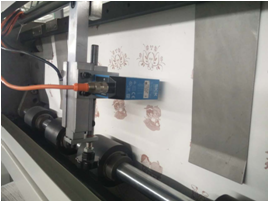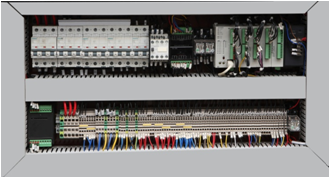 6.Motor: Frequency converter controls the main motor, with features of low energy and high efficiency.
PLC and HMI: screen display the running data and status, all of the parameter can be set through the screen.
Electrical control system: adopts micro computer control, encoder angle detect and control, photoelectric chase and detect, achieving from paper feeding, convey, die-cutting and delivering process automatic control and detect.
7. Feeding Unit: Adopts chain type pneumatic roller unwind, tension controls unwind speed, and that's hydraumatic, it could support at least 1.5T. Max roll paper diameter 1.5m.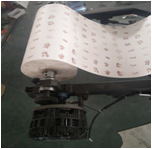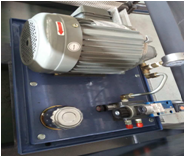 8. Die cutting mold: we adopt swiss material that could be used for at least 4 years, and if the mold can't cut well, you could polish the blade then continue to use.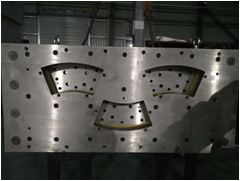 9. Electric configuration:
PLC DVP28SV11T2 Taiwan Delta
Servo Motor ASDA-3023-B2 Taiwan Delta
Touch screen TK6070IQ Taiwan Weinview
Frequency Inverter VFD055CB43A Taiwan Delta
Switch   Schneider,Siemens
Frequency Inverter VFD015M43B-ZA Taiwan Delta
Servo Motor ECMA-21830RS Taiwan Delta
Main motor CH3700-3-S-G1 Taiwan