In fact, copper and copper alloys are recognized as the most ideal materials for construction.
Because of copper is durable, corrosion preventive and so on. The experts believe that copper
can be combined with aluminum, steel and other materials, take their own advantages to produce
a composite building decoration materials will be better.

Specifications of Brass Strip:
1) Grade: C2200, C2300, C2600, C2680, C2801
2) Chemical Composition:
a) C2600:Cu >68.5-71.5% Fe <0.05% Pb <0.05% Zn remainder
b) C2680:Cu >64.0-68.0% Fe <0.05% Pb <0.05% Zn remainder
c) C2801:Cu >59.0-62.0% Fe <0.10% Pb <0.01% Zn remainder
3) Temper: O, 1/4H, 1/2H, 3/4H, H, EH, SH
4) Thickness: 0.15mm - 5.0mm
5) Width: 8mm - 610mm
6) Standard: JIS, ASTM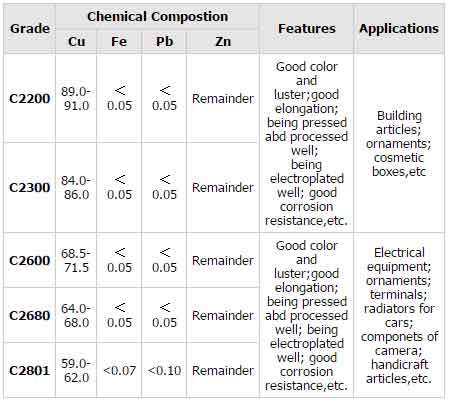 Features of Brass Strip:
1) Good elongation
2) Extruded well
3) Processed well
4) Electroplated well