Product description:
Magnesium Aluminum Zinc alloy coated sheet has excellent corrosion resistance, scratch resistance and good forming ability.
It can be applied in wide range of fields such as road/civil engineering, farming, construction, housing and others.
Shanghai Metal Corporation has succeeded to establish business relationship with clients in Europe and Southeast Asia.
It is chosen to be the newest coated steel material which is widely used in steel structure engineering, power engineering, solar power engineering, etc.
It is available in a very wide range of steel grades: steels for cold forming and deep drawing applications, structural steels and High Strength Low Alloy steels.
Standard:
1) ASTM A1046/A1046M
2) EN 10346
3) Company standard

Specification:
1) Thickness 0.27mm-2.0mm
2) Width 1000mm-1250mm
3) Surface:
- Surface quality: as coated(A), Improved(B), Best quality(C)
- Surface treatment: normal spangle, small spangle
- Surface finish: chromated no oiled
4) Coating weight: ZM30-ZM275
5) Dimensional deviation:
- Conform to EN 10143, ASTM A568
- Conform to company standard
Composition of Coating
Mg-Al-Zn coated sheet is a highly corrosion-resistant hot-dipped coating steel sheet that has a coated layer of Zinc, 13% Aluminum, 3% Magnesium, and Silicon element.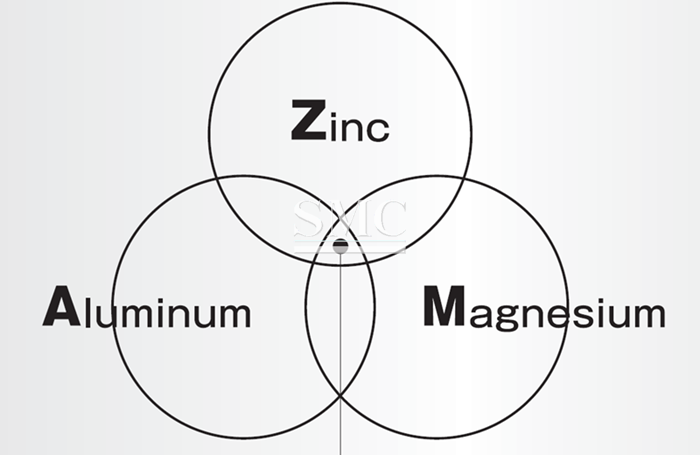 Corrosion Mechanism
Al & Mg form a fine, tight protective film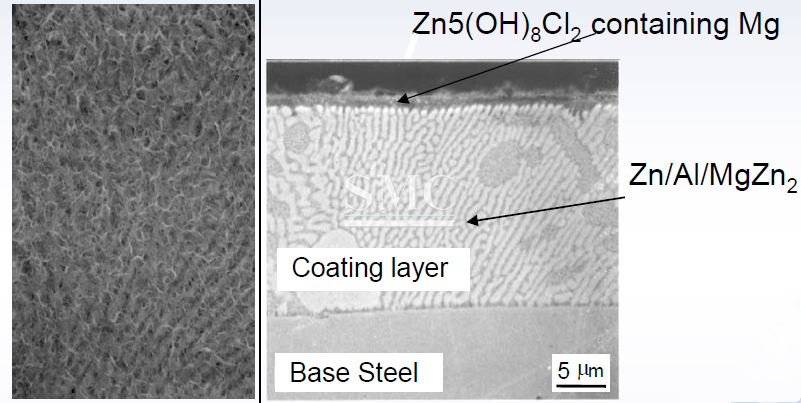 Mechanism of corrosion resistance on flat surface


Mechanism of corrosion resistance on cut edge