Product description:
Wire rope clips are fittings used to make an eye or join two cable or wire rope ends together. They are a simple fitting that can be installed in
the shop or in the field. For critical applications and if to be used in overhead lifting or suspending, always use standard drop forged type clips.
Never use a malleable iron type clip for these applications.
The components of wire rope clips are the saddle, the bolt(s) and the nuts.
1. Application: wire rope fixing and connecting.
2.Standard: U.S type wire rope clips; Austalia type wire rope clips; Wire rope clip type A; Wire rope clip type B; DIN1142 wire rope clips;
DIN741 wire rope clips.
3. Material: carbon steel, malleable iron, stainless steel 304/316.
4. Finish treatment: hot dip galvanized, electrogalvanized; color painted; high polished; mirror polished.
5. Production technical process: casting and drop forging.
6. Packing: weaven bags or carton on pallets, as per customer requests.
7. Certification: ISO9001, CE, BV, SGS
8. Installation method: fix the wire rope with dead end instead of the live end.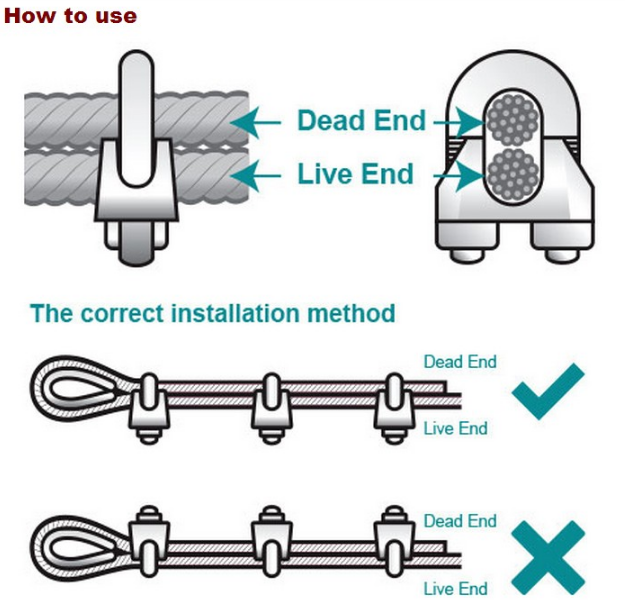 9. Related rigging products: steel wire rope; turnbuckles; eye bolts; shackles; D-shape links, lifting hooks, swivels and other rigging hardware.