Shanghai Metal Corporation is a leading manufacturer and supplier of garage door in China, who is specialized in research and development, production and installation of large industrial doors, high speed doors and garage doors. The products passed ISO9001: 2015 quality management system, and get the European CE safety certification and a number of national honors. Our company introduces the latest technology and style of industrial doors and garage doors, with sophisticated production equipment and strong technical force.
Our industrial product categories are sectional industrial doors, High speed doors, High speed roller shutter doors, industrial stacking doors, and industrial roller shutter doors. Garage door product categories are overhead garage doors and roller shutter garage doors. We try our best to meet our customers' needs, produce good quality products and supply good service. These products have been exported to Europe, America, Australia, New Zealand, Africa, the Middle East and other international markets. We are the company you can trust, hope to cooperate with you.
If you want to know more about our garage door or Aluminum Roller Shutter, Aluminum door, Aluminum porofile, please feel free to contact us, we will reply you within 24 hours.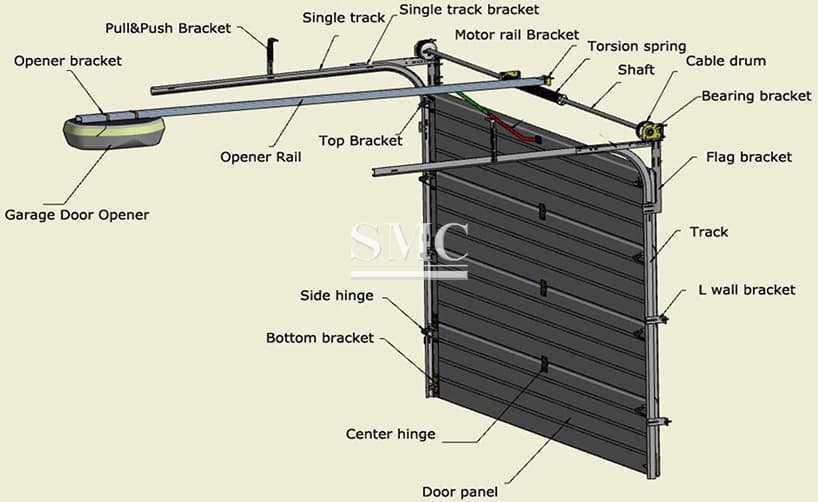 1) Wall Bracket

2) Chain

3) Guide Rail

4) Top Weather Seals

5) Bottom Weather Seals

6) Angles

7) Cover Box, etc.

1) Raw Material

2) Shearing

3) Blanking

4) Punching

5) Bending

6) Riveting

7) Assembly & Inspection

8) Packaging

1) Sectional Garage Door

2) Industrial Sectional Door

3) Roller Shutter Door

4) High Speed Door

5) Industrial Stacking Door

6) Overhead Door

7) Perspective Door, etc.