Shanghai Metal Corporation is a leading Reflective Aluminum Sheet manufacturer and supplier.
Mirror aluminum plate refers to aluminum plate which is treated by rolling, grinding and other methods to make the surface of the plate mirror effect. It is mainly used for lighting reflectors and lamp decoration, solar collector reflective materials, interior architectural decoration, exterior wall decoration, household Electrical panels, electronic product enclosures, furniture kitchens, automotive interior and exterior decoration, signs, signs, bags, jewelry boxes and other fields.
If you want to know more about our Reflective Aluminum Sheet price please feel free to contact us, we will reply you within 24 hours.
Specifications of Reflective Aluminum Sheet: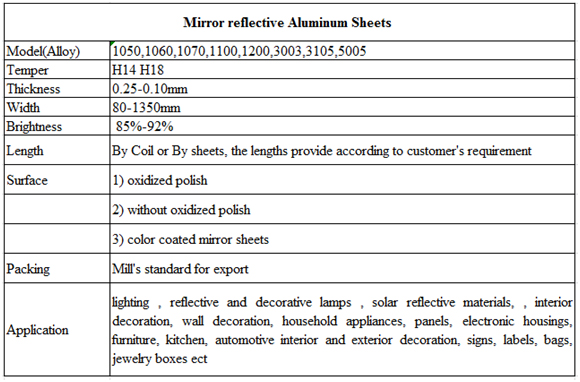 Features of Reflective Aluminum Sheet:
1) Excellent fireproof property
2) Super peeling strength
3) Perfect cold resistance performance
4) Excellent surface flatness and smoothness
5) Superior weather, corrosion, pollutant resistance
6) Even coating, various colors
7) Superior impact resistance
8) Lightweight and easy to process
9) Easy to maintain
10) Exterior usage